GMMSC Covers Announced for 2003, and those produced in 2002, have been added to our List of all Available Covers.
Four GWMSC Cachets were produced in 2002 by GWMSC cachet designer, Brother Stanley R. Longenecker. In addition, a 5th was produced for the 11-04-2002 250th Anniversary of George Washington Being Made a Freemason. These are the other 4 cachet topics/dates for 2002:

[1] 02-22-02 Washington's Birthday; Mt.Vernon, VA, Special GWMSC Postmark shown below.


----------------------
[2] Irving Berlin, composer of God Bless America & other fine tunes. FDOI.
----------------------
[3] Harry Houdini; FDOI.
----------------------
[4] Duke Kahanamoku; FDOI.
______________________
USPS descriptions include:

"Harry Houdini - 2002 Stamp FDOI on GWMSC Cachet:
This stamp honors Harry Houdini, America's most famous escape artist and magician - a star who needed no further introduction beyond his last name. The portrait on the stamp, which depicts a confident, self-assured man at the height of his career, was taken from a 1911 lithographed poster in the collection of Gary H. Mandelblatt. This 2002 issuance coincides with the 100th anniversary of the Society of American Magicians. Houdini served as president of the society from 1917 until his death in 1926.

Irving Berlin
This stamp honors accomplished songwriter Irving Berlin. A 1932 black-and-white photograph of Berlin by Edward Steichen (which was colorized for the stamp art) is superimposed over Berlin's handwritten score of "God Bless America." His signature from that score appears across the bottom of the stamp. A man of the people who had an ear for the types of songs that would be universally appealing, Berlin helped change the direction of American popular music. During his long career he wrote more than 1,000 songs, many of which became standards that are still favorites today."

Duke Kahanamoku
Olympic Gold Medal Winner in swimming; member Hawaiian Lodge #21.
February 2002 Newsletter
February 2001 Newsletter
GWMSC-Feb.2001 Newsletter, page 1 of 2 (includes new President's Message). Pictures the SOLD OUT Baseball Playing Fields FDC!
GWMSC Newsletter Feb.2001, page 2 of 2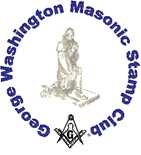 We are always looking for new ideas and topics for the newsletter. If you have an idea or would be interested in writing an article, please let us know.
News and "Food for Thought":
Reminder: To receive the Master of Philately, one must be a GWMSC member. Applications require dues paid with the application, a copy of your current year's Blue Lodge membership card from a recognized lodge (or letter from your Blue Lodge Secretary on Lodge letterhead acknowledging your current membership in good standing), and a vote of approval at a club meeting.
Food for Thought: Both the GWMSC and the MSCNY offer a "Master of Philately". Only Brother Boudreau, and others who might have received it from both clubs, know for sure whether they are the same. The only way to know is to determine that for yourself by receiving the "Master of Philately" from each club. Now, why's that?