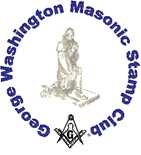 Click on "Events - Meetings" tab at top of page for details, and map and link Upcoming Meeting on Sunday, February 25, 2018
(Meeting twice annually in February & Labor Day Saturday).
February 25, 2018, Sunday - Annual Meeting (updated 01-22-2018)

Location:

Geo.Washington Masonic National Memorial Building, Shooters' Hill, Alexandria, Virginia

(2018 Meeting Room: North Lodge Room

Times:

GWMNM Building opens daily 9AM-5PM now. The optional hour tour of upper floors & tower costs $10/person, and begins at 9:30AM or 11:00AM if you wish to also attend the GWMSC meeting. Probably the meeting & M.P. conferral will end in time for the 4:00PM tour.

1:30-2:00PM Review Covers, Assemble & Socialize

2:00-4:15PM Meeting, including conferral of Master of Philately

4:45PM Reassemble at Joe Theismann's Restaurant, at foot of shooter's hill across from Metro Station. 1800 Diagonal Road, Alexandria, VA 22314, phone: 703-739-0777

5:30PM GWMSC Annual Dinner
Ladies/Guests invited;

Dutch Treat Dinner from Menu

Dinner Speaker: Bro. Walter Benesch

Topic: Grand Lodge of England's 300th Anniversary, October 31, 2017

- See "President's Message" tab
If you have not received the Master of Philately from the GWMSC, you may receive it at this meeting. Please notify/reserve in advance with Brother Allen so we'll have your M.P. Certificate for you at this meeting. Applicants for membership may attend and receive the Master of Philately, subject to favorable vote into membership. Candidates should bring their current Blue Lodge dues card.

For a Life Membership Application, see above Membership link/tab button. Membership Applications will be balloted upon at each meeting, and require a completed application, payment of the $20.00 Life Membership fee, and evidence of current membership in a recognized blue lodge (photocopy of 2018 Blue Lodge dues card, or letter from the Lodge Secretary on Lodge letterhead from a recognized Lodge).

GWMNM address: 101 Callahan Drive,

Alexandria

, VA 703-683-2007

----------------------------------

ORDER COVERS from:


Michael R. Aulicino

7413 Falmouth St

Springfield, VA 22150-4004

USA

----------------------------------




Questions: Contact

John R. Allen, Secretary & Past President-GWMSC;

2831 Swanhurst Drive;

Midlothian, VA 23113-2278
The GWMSC Cover List is updated through 2009. For the complete list in Adobe PDF format, click on "GWMSC Covers" tab (top of page).
February 22, 2010 Washington's Birthday Cover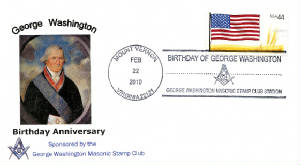 GWMSC Cover Chairman & Past President, Paul Williams, died at 12:45 AM on August 14, 2003. GWMSC Past President Edward P. Smith died on August 23, 2003. Our thoughts and prayers are with their families! Brief obituaries are under the News tab.
Current Cover Chairman: Order all GWMSC covers from:
Michael R. Aulicino

7413 Falmouth St

Springfield, VA 22150-4004
2005 - Feb. 22 - Washington's Birthday $1.50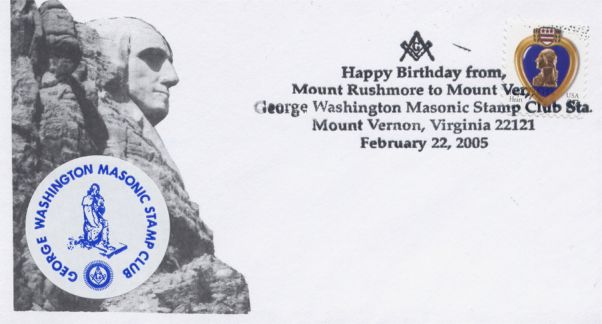 Click photo for larger picture.
2005-1981 Reagan $4.00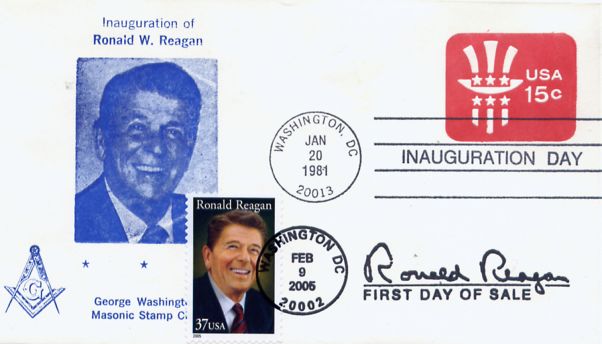 Click photo for enlargement.
2002 Club Postmark & Cover:
250th Anniversary of

George Washington being made a Freemason

Entered Apprentice Degree - November 4, 1752

November 4, 2002 Cachet with Masonic postmark prepared by

George Washington Masonic Stamp Club

Available from:

Michael R. Aulicino

7413 Falmouth St

Springfield, VA 22150-4004

$1.50 each plus #10 Self-Addressed Stamped Envelope.

There are several active Masonic Stamp Clubs. Our Links page will provide information & selected Stamp Club Internet addresses, as they become available. Member Home Pages might also be added.

Please provide your email address if you'd like to receive occassional GWMSC emails, or sign-up for automatic notification when certain of our web pages are updated.


We invite you to attend our semi-annual meetings. Members and non-members may order club covers.

Meetings details are listed on our Events page, and are generally held as follows:

[A] Annual Meeting each February at The George Washington Masonic National Memorial in Alexandria, VA, convenes around 2PM, generally the Sunday after the 22nd of February.

[B] Our BALPEX (Baltimore Philatelic Exhibition) meeting is the Saturday preceding Labor Day, around 2PM. Location: Marriott's Hunt Valley Inn, Hunt Valley, MD, just North of the Baltimore Beltway on I-83 toward York, PA.
Click the "Events-Meetings" tab at top of page for complete details of the next meeting, when available.